유청에서부터 비건 제품까지 포함하는 프로틴 파우더의 종류
면책사항
이 블로그는 지역 보건부의 승인을 받지 않았으며 질병의 진단, 치료 또는 의학적 조언 제공의 목적으로 제공되지 않습니다. 자세히 알아보기

이 블로그는 지역 보건부의 승인을 받지 않았으며 질병의 진단, 치료 또는 의학적 조언 제공의 목적으로 제공되지 않습니다. 이 블로그에서 언급된 콘텐츠는 정보 제공의 목적으로만 제공됩니다. 의학 및 건강 관련 진단 또는 치료 옵션 관련은 의사 또는 의료 전문의와 상의하십시오. 블로그 정보가 의료 전문의의 조언을 대신할 수 없습니다. 이 블로그에서 언급된 특정 제품에 대한 주장은 질병의 진단, 치료, 완화 또는 예방의 목적으로 승인되지 않았습니다.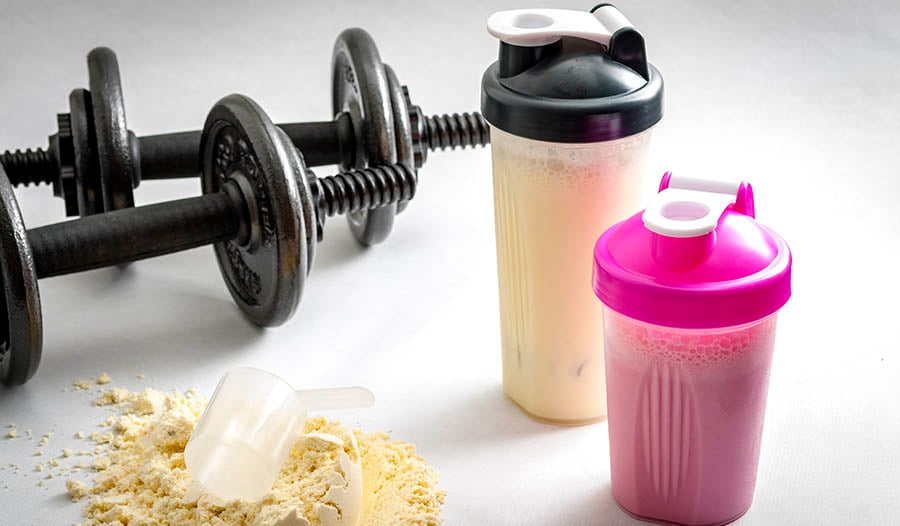 Find out why protein is so important for muscle growth.
Protein powder is a favorite nutritional supplement for dieters, bodybuilders, and cleansers. Protein powder products provide one of the most basic components of the human body. Protein powders come in many forms on the market, and each contains many amino acids your body needs for energy and muscle growth.
Protein powder is best absorbed for 30 minutes immediately after vigorous exercise. In general, after a lot of energy, the taste is not so good, so smoothies are good foods that can supply your body with important protein at the magic time to increase muscles.
Whey Protein (Way Protein)
Whey is one of the two main proteins in dairy products. Whey is easier to use in the body than casein, another major milk protein. Whey is a favorite protein because it's easy to digest. So whey made from milk is formulated for infants for fast growth and muscle development. It's also easy to consume and affordable, making it a favorite for bodybuilders and those who want to lose weight with high-protein meals.
Whey comes in two forms: whey protein concentrate and whey protein isolate. Whey protein concentrates are made by separating the milk into two components: traditional whey, liquid whey and solid curd, or milk fat and casein. Drying this liquid whey results in the most common form of whey powder. Whey powders produced in this way are easier to produce and are usually less expensive than whey protein isolates. Typical products include 100% Natural Whey Protein from Jarrow Formulas.
Separated Whey Protein (WPI) is made by removing fat, cholesterol and lactose from liquid whey through a special filtration process. This process allows people who are sensitive to lactose to use whey protein powder without any side effects. The flagship product is California Gold Nutrition's Sports WPI 90.
Whey protein can be used as an excellent ingredient in making healthy high protein shakes. Make a delicious shake with the following recipe.
Material :
How to :
Add powder, milk and ice to the blender and grind to your preferred size. Sprinkle with almonds and coconut. This recipe makes 1 serving.
Egg white protein
Egg white protein is literally a dry powder of egg whites. For some people, egg white protein is better in several ways than whey protein. For people with lactose allergy, egg white is a protein without lactose. Whey protein isolates remove most of the lactose, but may remain in trace amounts. Egg white or albumin is digested at a normal rate, unlike fast-breaking whey or slow-breaking casein.
This means that the effect of egg whites lasts a little longer than if you had a whey protein shake. It is also one of the few products in the powder family that contains all 10 essential amino acids to provide complete protein. Providing excellent egg white protein powder is Now Foods and MRM.
Enjoy a great taste of egg whites with a delicious smoothie.
Material :
How to :
Put all the ingredients in the blender. This recipe makes 1 serving.
Bone Broth Made
Bone Broth is a high protein broth made by cooking bones and small amounts of meat. Boils weakly for a long time, causing a large amount of collagen, minerals and other nutrients in the bone. You can also make it simple at home or buy it in powder or liquid form.
Bone broth has become a protein source that many people love. People who don't like sweet taste can drink bone broth like a delicious soup. Collagen provides the components that make up healthy skin, hair, and nails. So people with thinning hair, broken nails, or wrinkles or skin problems may be able to improve their symptoms by eating bone broth.
Bone broth is usually used as an ingredient in delicious dishes, or you can drink it in the form of a broth or soup. It can also be used to create shakes.
Material :
How to :
Put the ingredients you didn't know in the blender and grind them. Adding ice can dilute the concentration, and freezing the banana can make it thicker. This recipe makes 1 serving.
Vegan and Vegetarian Protein
Many people are usually batjiman supply of meat protein in the most common protein powder Vegetarian sentenced eat can that product is. It's made from animal protein, so it's not suitable for vegan use. However , there are many different products for vegan proteins . Each product has its own unique benefits and tastes. Many of these are easily germinated or fermented to make food easier to digest.
Soy protein powder contains a lot of powerful hypoallergenic protein. This family offers a wide range of branched chain amino acids. Soy protein powder is known to have an effect of suppressing appetite, lowering blood pressure, improving kidney health, increasing muscle, and controlling blood sugar. Experience a powerful protein supplement with Pure Advantage's Pure Vegan Protein.
Brown rice protein powder is another great choice for those who want to lose weight. Rich in antioxidants, this supplement is known to provide excellent benefits for liver and hormone regulators. Brown rice protein powders do not contain all the amino acids needed to form a "complete" protein, so they are often used in combination with teeth or quinoa.
Soy protein powder is most often used as a vegan protein. This product is most effective because it denatures the xenoestrogen hormone that is naturally present in plants when fermented and organically grown. This hormone is important for premenopausal and postmenopausal women and can help alleviate the symptoms caused by these physical changes. Soybeans are economically burdensome and generally an easy source of vegan protein. Soybeans are often served with vegetables and other plant proteins.
Many products are also available that combine vegan protein powders to provide more complete plant nutrition.
Vegan protein powder can be mixed to make a great smoothie.
Material :
How to :
Add the oats and water to the blender, change for a few seconds in pulse mode, and let the water soak for 1 minute. Add the rest of the ingredients and grind until soft. Make 1 serving. To make it sweeter, add raw honey or replace it with vanilla protein powder.
Other uses of protein powder
Protein powder can be used for other purposes as well. You can add it to recipes of cookies, protein bars, muffins, or oven-baked foods. It's a great place to hike for long periods or as a snack on busy days. Protein powder is known to not only taste good, but also to help the body's metabolism and the full activation of the fat burning process. As a result, muscles can be made more while burning more fat.